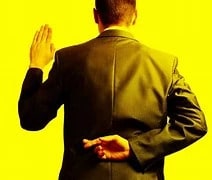 17 Oct

Tell me about the California "Litigation Privilege" or why it is "Legal to Lie" in court?

This is from a Callahan & Blaine, a California law firm in Santa Ana, on their website:

"California's litigation privilege is an incredibly powerful tool that effectively immunizes conduct if it is reasonably related to litigation. The litigation privilege protects conduct even if it is 'alleged to be fraudulent, perjurious, unethical, or even illegal.' Kashian v. Harriman, 98 Cal.App.4th 892, 920 (2002). The California Supreme Court has acknowledged that application of the privilege to allegedly unlawful conduct 'necessarily results in some real injuries that go uncompensated' but acknowledged 'that is the price that is paid for witnesses who are free from intimidation by the possibility of civil liability for what they say..' Silberg v. Anderson, 50 Cal.3d 205, 212 (1990) (quoting P rosser, Law of Torts (3d ed. 1964, p. 797); see id. at 213 ('The principal purpose of section [47(b)] is to afford litigants and witnesses the utmost freedom of access to the courts without fear of being harassed subsequently by derivative tort actions.' (internal citations omitted). 'To effectuate its vital purposes, the litigation privilege is held to be absolute in nature.'"

When does the litigation privilege apply? Pretty much in every civil, family, and juvenile dependency court proceeding. I hope you don't think that the judge is required to believe what you tell him/her because you have a "license to lie" in a California civil, family or juvenile dependency court. The litigation privilege is a type of immunity that helps to keep you from being sued by the other side (see our other blog on immunities). Also, lying is communicative. If you are doing something else, then that is most likely not covered by the litigation privilege but NALNLA, I am not a lawyer and this is not legal advice.

Are there exceptions to the litigation privilege? Almost all criminal cases, including prosecution of "communications" such as perjury, false reporting, deceit, etc. There was recent case of an 87 year old doctor in Riverside who was convicted for seven counts of perjury after lying about procedures he had fraudulently billed.

Doesn't lying in court cause unwarranted governmental interference (UGI) in families and false allegations to run rampant in family and juvenile dependency courts? Yes, join RaiseYourRights and help us #PreventUGI, #EndFalseAllegations, and #PromoteSettlement.