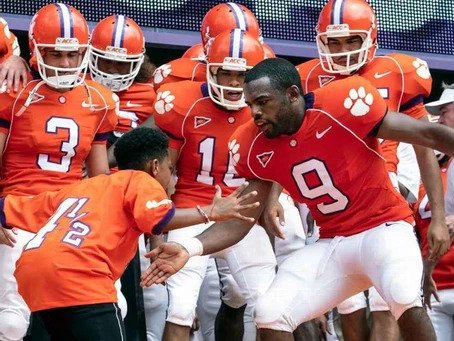 26 Nov

Is Hollywood taking notice about the damage caused by the family and juvenile dependency courts?

Yes, there are already several examples. In The Crown, a father invades the Queen's bedroom after he was cut off from all visitation with his children by the local British government. In Mile 22, you can tell that Lauren Cohan wasn't going to have visitation with her daughter once her ex told their family court judge about her swearing. In Designated Survivor, Season 2, episode 2, Keifer Sutherland as the President, tries to reason with a terrorist, Patrick Lloyd after he realizes Lloyd was angry and wants to kill lots of people because a family court judge had cut off all of Lloyd's visitation with his son. Sutherland recites from a manifesto "The cornerstone of American society is the relationship between a parent and their child and that bond is inviolate (should be free from unwarranted governmental interference (UGI) and shall be protected at all costs". In Disney's "Safety", Ray doesn't want his brother to be sent into the same foster care system he was forced to endure. To top it off (Thank you Disney!) Ray watches a child sent into foster care which makes him realize he needs to save his brother first and put his life second.

Children are incredibly unique individuals. Not only do they have their own fingerprints and DNA, they also have their own personalities. A parent soon understands this when the child turns age 18, if the parent has done his/her job right, and the children have turned into caring, responsible, respectful adults. Does the Association of Family and Conciliation Courts, the AFCCnet of colluding judges, attorneys, psychologists, child custody evaluators, mediators, forensic investigators, etc. advocate for sibling support? Nope, they say that social science and child development research over the past four decades is still being done to determine the risk and resilience of siblings separated by the family and juvenile dependency courts. What do I say? Do everything you can to foster sibling relationships. Keep all loving adults engaged iWho in their right mind would have ever thought that a child should be separated from the extended families that love him/her? Oh, that's right, the self serving "expert" witnesses that judges will only hear from, who happen to all be colluding members of the same private organization and who make their living off the family and juvenile dependency courts, #NoAFCC, (the Association of Family and Conciliation Courts, made up of judges, attorneys, psychologists, social workers, attorneys, etc.). How do we as Americans turn the family and juvenile court system around? The AFCC has been touting for 60 years that children are resilient to this kind of loss and the judges have embraced it (not their children). Can we #PreventUGI (unwarranted governmental interference)? That's what jury trials are for.n siblings lives. Let them sort it out from there, #AFCC.