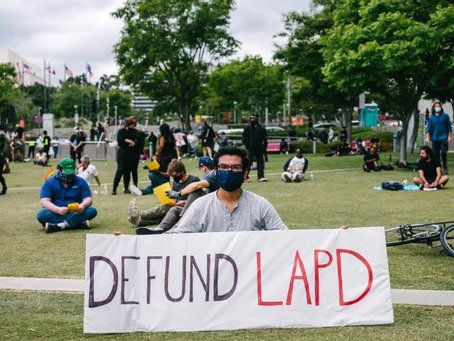 11 Dec

Nury Martinez/City of Los Angeles, took $150M from the LAPD to "defund"it? What's she doing with it?

This is a classic example of someone we refer to as a self-serving "Do-Gooder". This is a classic example of how the Association of Family and Conciliation Courts started out, and eventually became part of a $50 billion dollar a year "self perpetuating" family and juvenile dependency court industry, of colluding judges, attorneys, psychologists, social workers and custody evaluators, etc., #NoAFCC. 

 It all sounds so wonderful at first. In reality, very little is being spent in an agreement the city made with the LAPD, a year ago, to locate and recover commercially sexually exploited children, versus how much is being made to beautify parks and sidewalks in Los Angeles with the $150 million dollars. 

Of the $150 million already taken from "de-funding" the Los Angeles Police Department (the LAPD), $40 million was put into a fund to delay furloughs, $10 million for job programs, and $10 million has been set aside as reserves for the city's next year(s) budget. Martinez intends to use the remaining $90 million to "uplift disenfranchised communities" or as we like to call it, make it look like the Los Angeles city council is helping, while really making no real significant changes in the lives of anyone at all, classic self serving #DoGooder.

Everyone who can get some of the $90 million by asking for it. Bids have been made for street sweeping, new curb ramps, storm drain improvements, exercise equipment for parks, new landscaping for medians, park improvements, new left-turn signals, tree stump removal, sidewalks so you don't need to "push a stroller through dirt in the dark", street and alley resurfacing, hiring programs, tree trimming, parking enforcement, illegal dumping investigations, gang interventions, homeless outreach teams, etc.

What do the critics say? Police Chief Michel Moore and the unions say homicides and shooting victims are sharply increasing to a 10-year high in the city but the number of officers they are going to assign to various areas of Los Angeles will be the lowest amount since 2008. Everyone agrees that it will take the LAPD longer to respond to calls from Metro train stations, buses and from everywhere else in the city of Los Angeles. More importantly, fewer child abuse cases will be investigated. In 2018 to July 2019, the LAPD had failed to investigate nearly 4,000 allegations of serious child abuse generated through E-SCARS (countywide electronic system) or through the LAPD itself.

Will a #DoGooder be able to take pictures and show improvements in the streets, sidewalks and parks of the city of Los Angeles? Yes, but what about overall improvements in the daily lives of its most vulnerable residents? Montesquieu would admonish the City and tell it that its' first goal should be to ensure that no one within its' borders should be "be afraid of another". This definitely would include children. 

 Over 2/3 of the homeless in the city of Los Angels are believed to either have a current juvenile cases open or a prior case against them. Why isn't money going towards these families in extreme need for resources? Let's wait and see what happens, since the $90 million has yet to be disbursed. RaiseYourRights believes that the family and juvenile dependency courts have caused, and will continue to force the LAPD to act as parents for too many of city residents. We want to #PreventUGI (unwarranted governmental interference) in the lives of families and thus give children the best protections available to them.