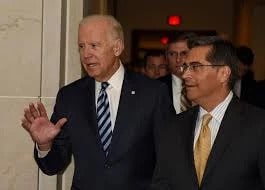 21 Dec

Is CA taking over the federal government and will abolishing the electoral college help CA do this?

It would appear so.

CA Vice President Kamala Harris is standing behind a 78 year old President who has had serious health issues. CA Attorney General, Zavier Becerra will be leading the federal Department of Health and Human Services and CA Isabel Guzman will be in charge of the federal Small Business Administration.

Abolishing the electoral college would only help to solidify the moving of the White House to California. Let's not forget the fact that California got 20% of the electoral votes needed to win the presidency, 10% of the overall votes for the presidency, and there are more registered voters in California than there are people living in Florida. California's industries count for close to 15% of the US gross domestic product and California is home to 27% of our nation's billionaires. Most importantly, California's use of technology is unsurpassed by any other state. The saying that, "What happens in California quickly spreads to the rest of the nation" is repeatedly found to be true and now our California VP has a very good chance of becoming the next President. 

It is frightening to think that California might one day have a much bigger influence on the rest of America than it already has, because most of what our state and local governments do here, is self-serving. Take for example the organization that controls the entire US family and juvenile dependency courts (which are arguably the most important courts in our nation) which is the AFCCnet, or the Association of Family and Conciliation Courts. The AFCCnet is made up of colluding judges, attorneys, psychologists, therapists, custody evaluators, forensic investigators, etc.. The AFCCnet was started in California as a a way for judges to send business to the other members of this organization.  Most of the past presidents of the AFCCnet are judges, psychologists, or attorneys, so you do the math.  Anyone who wants to make money from this $50 billion dollar a year family and juvenile dependency court business, belongs to this organization.  The early judges and attorneys claim they were trying to prevent parents from divorcing instead of trying to make money off of a couple's divorce. This concocted statement quickly spread and the AFCC is now an international organization. The amount of money a judge forces a parent to spend on a custody evaluator, for only a few hours of "evaluation", in California, is more than many people in other states use to pay for their principal residences. The AFCC is a major offender of unwarranted governmental overreach and it, of course, started in California as a money maker for psychologists and attorneys in family court. The AFCC has also brought in billions for the State of California itself, in grant money from the federal government for our juvenile dependency courts. 

RaiseYourRights successfully stalled the Keep Families Together Act started by CA senator Diane Feinstein and our current CA VP  Kamala Harris because it was sold to the public as a way to stop children being separated from their migrant parents. However, in reality it is a self-serving Act used to send more children into state run foster care.  If passed, the Act will reduce the standard of evidence used to separate a child from a parent so that basically no evidence is needed at all. The federal immigration courts will be able to seize a migrant parent's legal rights to their child easily.  The Keep Families Together Act authorizes state courts to seize legal rights of a child from a parent if "a state court determines that it is in the child's best interests to be removed".  If you are crossing our southern border to enter the US, come in through Texas. Parents in Texas family and juvenile dependency courts have jury trial rights. 

In California alone, millions of parents have lost custody of their child in our family and dependency courts with no records of any wrongdoing, whatsoever, under this low standard of evidence used against them.  California should be the example to the rest of the nation of how this unwarranted governmental interference (UGI) in our families has damaged generations still to come and a warning that the self-serving things that the State of California imposes on us, should be stopped before they spread to the rest of the nation. 

Join RaiseYourRights today and give parents in California the same rights to a jury that Texas parents enjoy, jury trial rights to stop UGI.